Malachi: Messenger of Rebuke and Renewal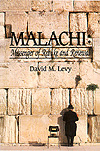 Friends of Israel Gospel Ministry
, 1992
Overview
The book of Malachi, although short in content and last in the list of prophetic writings, is long on meaty teaching of godly principles and by no means least in importance. This volume gives a comprehensive chronology of Israel's prophetic history—from the Babylonian captivity to the Millennial Kingdom.
Product Details
Title: Malachi: Messenger Of Rebuke And Renewal
Author: David M. Levy
Publisher: Friends of Israel Gospel Ministry
Publication Date: 1992
Reviews
What other people are saying about Malachi: Messenger of Rebuke and Renewal.