The Moral Foundations Of Life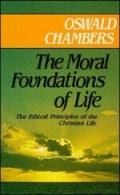 Marshall, Morgan & Scott
, 1936
Overview
These studies deal with the ethics of the Christian life and its psychology. Chapters headed: Habit, Behavior, Direction of the Will, and What to Think About, are full of practical 'down to earth' guidance for the day by day living of the Christian life.
Product Details
Title: The Moral Foundations Of Life
Author: Oswald Chambers
Publisher: Marshall, Morgan & Scott
Publication Date: 1966, 1996
Reviews
What other people are saying about The Moral Foundations Of Life.