New Testament Introduction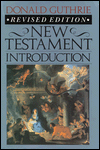 Overview
In this updated edition of his widely acclaimed reference work Guthrie provides background information for each book of the New Testament and examines issues such as authorship and authenticity, literary structure, and cultural setting. These discussions, as well as the notes and bibliography, are enhanced by Guthrie's attention to recent scholarship and current issues in biblical studies.
Product Details
Title: New Testament Introduction
Author: Donald Guthrie
Publisher: IVP
Publication Date: 1996
Reviews
What other people are saying about New Testament Introduction.