The Spiritual Lives Of Great Composers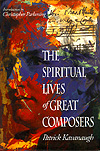 Overview
The Spiritual Lives of Great Composers will lead you on a brisk walk through the innermost thoughts of twelve masters of western music. Patrick Kavanaugh's extensive research and lively writing draws fascinating new portraits of Handel, Bach, Haydn, Mozart, Beethoven, Schubert, Mendelssohn, Liszt, Wagner, Dvorak, Ives, and Stravinsky. His recommended listening choices will bring hours of pleasure, and greater appreciation. Today, when we are enjoying an important revival of interest in the classical music of our culture, it is important that we also gain a true understanding of the spirituality that illuminated many of our most brilliant masterworks.
Product Details
Title: The Spiritual Lives Of Great Composers
Author: Patrick Kavanaugh
Publisher: Sparrow Press
Publication Date: 1992
Reviews
What other people are saying about The Spiritual Lives Of Great Composers.