Rediscovering Expository Preaching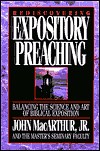 Overview
In keeping with the purposes of The Master's Seminary, this volume aims toward the goal of motivating and equipping this and the next generation of Christian leaders to provide wholesome spiritual nourishment for God's people from His Word. Rediscovering Expository Preaching combines, a highly condensed form, all aspects of The Master's Seminary program, which is designed to shape men of God to proclaim the Word of God effectively, so that nonbelievers can be evangelized and believers can be equipped to do the work of ministry. Rediscovering Expository Preaching targets both the seasoned preacher and the student of preaching/teaching. It has also been written to help serious laymen in their ministry of the Word. Pastors without seminar training can profit from this volume, too, as can veteran pastors, who are continually seeking a higher level of expository excellence.
Product Details
Title: Rediscovering Expository Preaching
Author: John MacArthur
Publisher: Word Publishing
Publication Date: 1997
Reviews
What other people are saying about Rediscovering Expository Preaching.