Acts: The Crossway Classic Commentaries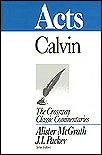 Overview
For hundreds of years Christendom has been blessed with Bible commentaries written by great men of God who were highly respected for their godly walk and their insight into spiritual truth. The Crossway Classic Commentary Series, carefully adapted for maximum understanding and usefulness, presents the very best work on individual Bible books for today's believers. The book of Acts provides an invaluable transition in the Bible from the life of Christ to the formation and expansion of the New Testament church, early struggles in the Body of Christ, and the conversion and later missionary journeys of Paul, making for enlightening and nurturing reading for all followers of the Lord Jesus Christ. John Calvin's insightful examination of this action-packed, fast-paced section of Scripture will give serious Bible students a solid grip on the key passages and themes of Acts. And that in turn will give believers renewed enthusiasm and boldness in taking the good news of Christ to their own time and setting.
Product Details
Title: Acts: The Crossway Classic Commentaries
Author: John Calvin
Publisher: Crossway
Publication Date: 1995
Reviews
What other people are saying about Acts: The Crossway Classic Commentaries.