Old Testament Survey Series: The Pentateuch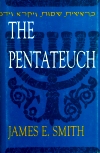 Overview
For those who have found the Pentateuch to be difficult and tedious, these pages will be a delight! The Pentateuch is a collection of writings that changed the course of human history unlike anything until the advent of Christianity itself. Moses compiled the Pentateuch from the very words of God. The entire Judeo-Christian system of salvation springs from this amazing record of beginnings. James Smith makes the first five books of the Bible come to life from his many years of teaching experience. The Pentateuch contains the foundational revelation of the Bible. Mastery of these books in God's Word is an essential part of Christian education. No more adequate textbook has been written to introduce this portion of the Bible. In this newly revised edition of the Pentateuch, Dr. Smith takes up the challenge of organizing this important biblical material for classroom presentation and personal study. Pulpit ministers will find that they can easily preach directly from this volume. Forty-five charts and diagrams, fourteen maps, and fourteen bibliographies shed light upon the text and make this reference tool adaptable to any teaching situation. Trace your spiritual roots and discover for yourself how marvelous God's eternal plan really is!
Product Details
Title: Old Testament Survey Series: The Pentateuch
Author: James E. Smith
Series: Old Testament Survey Series
Publisher: College Press
Publication Date: 1993
Reviews
What other people are saying about Old Testament Survey Series: The Pentateuch.