On Being Witnesses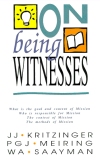 Overview
The church without a missionary existence is something like a fire without flames ... impossible to envisage. The Christian God is a missionary God, who keeps reaching out to his creation with life-giving love. He expects his people as his representative body on earth, to be involved in the same way. The authors strongly believe in the constructive role Christian mission can play in the world, also in the reconstruction of the South African community, which is the focus of the book.
Product Details
Title: On Being Witnesses
Authors: J. J. Kritzinger and Willem Saayman
Publisher: Orion
Publication Date: 1997
Reviews
What other people are saying about On Being Witnesses.