Preaching the Word: Mark: Jesus, Servant and Savior (2 vols.)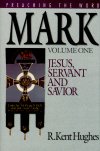 Overview
This volume covers the culmination of Jesus' ministry on earth. Seen in glory on the Mount of Transfiguration, challenged by religious skeptics, Christ moves inexorably toward the Cross, where history's greatest battle would be fought and won. And so we, like the ancient world, are confronted with the crucified and risen Christ and must decide if we will acknowledge Him as our Lord and Savior. Thus in our age of aggressive evil and apathetic faith, the Gospel of Mark resounds with the dynamic power of the Lord Jesus Christ. Perhaps the most dramatic and action-packed of the Synoptic Gospels, Mark's writing continues to inspire increased commitment in the Church at large.
Product Details
Title: Mark: Jesus, Servant and Savior
Author: R. Kent Hughes
Series: Preaching the Word
Publisher: Crossway
Publication Date: 1989
Reviews
What other people are saying about Preaching the Word: Mark: Jesus, Servant and Savior (2 vols.).