The IVP New Testament Commentary Series: 1-3 John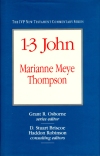 Overview
When to fight and when to compromise are not always easy choices to make. Stubbornly defending the truth can easily end up in arrogance that discredits the gospel, while too readily seeking middle ground can leave truth by the wayside. Torn by conflict and marred by schism, the congregation to whom John addressed his letters stood in need of his strong exhortations to love and unity within the bounds of truth. His word to them is well suited to the church today, confronted by controversies within and without that challenge its ability and will to stand for the truth in a pluralistic society. In this careful study of John's letters, readers will find an introduction that discusses the letters' occasion and purpose, authorship and date, order and theological themes. A passage-by-passage commentary follows that seeks to explain what each letter means for us today as well as what it meant for its original hearers. Students, pastors, Bible teachers and everyone who wants to understand John's message for the church will benefit from this excellent resource.
Product Details
Title: The IVP New Testament Commentary Series: 1-3 John
Author: Marianne Meye Thompson
Publisher: InterVarsity
Publication Date: 1992
Reviews
What other people are saying about The IVP New Testament Commentary Series: 1-3 John.