The IVP New Testament Commentary Series: Galatians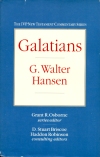 Overview
To the young church in Galatia, marred by ethnic and social rivalries, Paul made his great healing declaration of unity through faith in Christ. Abolished were the divisions between Jew and Greek, slave and free, male and female. Christians today will also find a healing word addressed to present-day divisions of race, social class and gender. The new community in Christ draws its life not from rules and regulations but from the Spirit who frees and unites us. In this warm, invigorating volume, readers will find helpful background material on the letter's date, destination, purpose, form and theological themes. Unlike many other commentaries on Galatians, the passage-by-passage exposition found here highlights not only the individual dimensions of justification by faith but also its social dimensions.
Product Details
Title: The IVP New Testament Commentary Series: Ephesians
Author: Walter L. Liefeld
Publisher: InterVarsity
Publication Date: 1997
Reviews
What other people are saying about The IVP New Testament Commentary Series: Galatians.