The Just Shall Live by Faith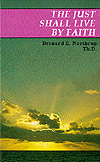 Overview
This book is a thought provoking study of a great text of Scripture which occurs four times in the Bible. Its message, "the just shall live by faith," is carefully examined in each of the four contexts where it is found. Since the verse commonly is used in evangelism, the initial thrust of the book is to discover whether this actually is a text calling the unbeliever to faith in Christ or if the evidence in each of the four contexts suggests that the Biblical writers actually had another thought in mind. But the book is far more than a microscopic, textual exposition, considering only this little phrase. The writer plunges into the contexts of the books of Habakkuk, Romans, Galatians and Hebrews to ask their writers precisely what they were talking about when each of them used this phrase. As a result, this little book, The Just Shall Live by Faith, gives remarkable, thought by thought exposition of each of these books, a telescopic view of the flow of their messages to find the exact setting and use of this crucial phrase, The Just Shall Live by Faith.
Product Details
Title: The Just Shall Live by Faith
Author: Bernard E. Northrup
Publisher: Logos Research Systems
Publication Date: 1997
Reviews
What other people are saying about The Just Shall Live by Faith.