The Life I Now Live in the Flesh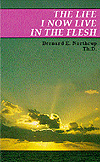 Overview
The standards for Christian conduct have plagued the church since Pentecost. The early church first became aware of the extent of the nature of this problem when the Holy Spirit began including the half-Jews who were called Samaritans and then, of all things, even the Gentiles. For the early church at first was a very Jewish body which consisted of Old Testament believers who had made the remarkable transition to believers in the dispensation of Grace through personal faith in the resurrected, living. Christ who had died for their sins. This book will help many to find victory over their internal enemy, their wooden horse which was dragged within the gate long ago in Eden.
Product Details
Title: The Life I Now Live in the Flesh
Author: Bernard E. Northrup
Publisher: Logos Research Systems, Inc.
Publication Date: 1995
Reviews
What other people are saying about The Life I Now Live in the Flesh.