The Outpouring: Jesus in the Feasts of Israel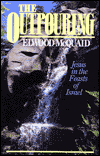 Friends of Israel Gospel Ministry
, 1990
Overview
This volume, The Outpouring, is in keeping with a central commitment of The Friends of Israel to view Scripture through the prism of the cultural, historical setting in which it was cast by the Holy Spirit. John's Gospel, in its treatment of the interaction between the Messiah and Israel's great feasts, gives a magnificent exposure to this pattern. The Outpouring will enhance your understanding of how the Lord certified the credentials of our Jewish Messiah among Abraham's seed and in relationship to the great festive commemoratives of the Jewish nation. In the process, we fondly hope that you will appreciate more the wonder of the riches of His grace and the glories of our Savior's love.
Contents
Introduction
Every Man as He Is Able
Up to Jerusalem
Sound the Trumpets
Manna for Mankind
Fire and Water
A Light in the Temple
The Final Sacrifice
Product Details
Title: The Outpouring: Jesus in the Feasts of Israel
Author: Elwood McQuaid
Publisher: Friends of Israel Gospel Ministry, Inc.
Publication Date: 1990
Pages: 160
Reviews
What other people are saying about The Outpouring: Jesus in the Feasts of Israel.