Study Scripture Like a Student at the Biblicum
---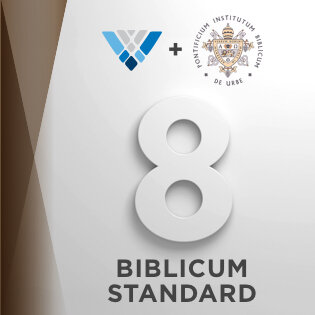 Verbum 8 Biblicum Standard
Study Scripture like a student at the Biblicum in Rome. Verbum's Biblicum Standard software level was created in collaboration with the Pontifical Biblical Institute and serves as a digital curriculum for the school. The collection offers the necessary books and software tools for advanced Catholic academic biblical study. Key texts include: biblical and extrabiblical texts in original languages with translations and critical apparatuses; a curated collection of commentaries for each biblical book; and essential grammars, lexica, and dictionaries. It also features the full range of software tools that Verbum is famous for: reverse interlinears for key Bibles, Hebrew audio pronunciations, Hebrew and Greek lemmas, and grammar constructions parsed with the mere hover of the mouse.
Other Resources Used at the Biblicum
---
The Verbum/Biblicum Partnership
---
Since its founding in 1909 the Pontifical Biblical Institute ("Biblicum") has been at the center of Catholic Bible and Near Eastern language scholarship. Faculty and students at the Biblicum adopted Verbum in late 2018. Our product team worked closely with the Biblicum faculty to create a carefully curated library of biblical texts and commentaries and other key resources that serve students in class at the Institute and in their teaching and ministry after graduation. We sojourned to Rome to help teach the Biblicum faculty and students how to use the software, and we returned again in May, 2019 to support the Biblicum's Jesus and the Pharisees conference, which we cosponsored. At the close of the conference we hand-delivered a tablet loaded with Verbum Biblicum Standard to His Holiness Pope Francis.