Equip Yourself with Digital Tools for Catholic Scholarship
Special Offers for the
Catholic Biblical Association
---
Verbum combines time-saving research tools with a trusted library of Catholic resources that will serve you throughout a lifetime in academe or ministry. Join the Pontifical Biblical Institute and other schools and seminaries that use Verbum in their teaching and scholarship.
If you are a faculty member, seminarian, or student, enroll now in the academic savings program to receive at least 30% off Verbum academic software and individual resources.
Enroll Now
In Memoriam
We are pleased to offer select titles from some of the CBA members who passed away over the last two years.
---
Save on Commentaries and Journals
---
Choose Your Verbum Package
Be sure to use code CBA22 to Save 30% (or save more by registering for the academic discount)
---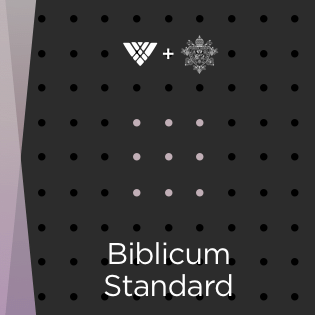 Verbum 9 Biblicum Standard
Verbum's Biblicum Standard package was created in collaboration with the Pontifical Biblical Institute in Rome. The collection offers the necessary books and software tools for advanced Catholic academic biblical study. Key texts one would expect in any advanced scholar's package are included such as: biblical and extrabiblical texts in original languages with translations and critical apparatuses; a curated collection of commentaries for each biblical book; essential grammars, lexicons, and dictionaries.
Price: $2,499.99
Save 30%
Your Price: $1,749.99
Add to cart
Not sure which one is right for you? Call 800-875-6467 to talk to a Verbum expert.