Revelation Explained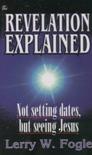 Overview
Many eschatologists claim that there is not a more difficult book to understand than the Book of Revelation. For them, the book is about future physical events over which we have no control, and this implies that expert world-knowledge is needed to understand the prophecy in light of current world events.
To all this, Lerry W. Fogle says, "Not so." He states that the purpose of the prophecy is "to give a fresh revelation of Jesus Christ in the midst of the Church—here and now and until the end of the ages." With marvelously clear insight, Fogle then proceeds to take the mystery and confusion out of the Book of Revelation, to show Jesus Christ in the Church—in all His wonder and glory, and to detail all the things that we are to "keep" in order to receive the blessings God promised in the words of that wondrous book.
Product Details
Title: Revelation Explained
Author: Lerry W. Fogle
Publisher: Bridge Publishing Inc.
Publication Date: 1981
Pages: 324
About Lerry Fogle
Lerry W. Fogle is the Associate Pastor of the Frederick Church of the Brethren in Frederick, Maryland.
Reviews
What other people are saying about Revelation Explained.