Journal of Theological Interpretation, vol. 4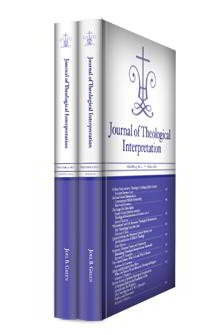 Overview
Critical biblical scholarship as developed and defined since the mid-eighteenth century has played a significant and welcome role in pressing us to take biblical texts seriously on their own terms and diverse contexts. With the postmodern turn, additional questions have surfaced—including the theological and ecclesial location of biblical interpretation, the significance of canon and creed for biblical hermeneutics, the historical reception of biblical texts, and other more pointedly theological interests. How might we engage interpretively with the Christian Scriptures so as to hear and attend to God's voice? The Journal of Theological Interpretation aims to serve these agendas.
The Logos edition of these theological journals speeds up your research and sermon preparation. Search across volumes of recent scholarship in theological interpretation studies. Find every article that mentions the topic or Scripture passage you're preaching on or researching. Trace the development of key theological themes by accessing the latest scholarship—like never before.
Key Features
Theological exegesis of selected biblical texts
Theological method and the role of Scripture in theology and ethics
History of reception or history of interpretation of biblical texts
Review essays interacting with key books—contemporary and classical
Hermeneutical challenges in theological exegesis
Individual Titles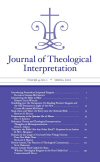 Journal of Theological Interpretation: Volume 4, Number 1 (Spring 2010)
Contents:
"Introducing Premodern Scriptural Exegesis," by Kathryn Greene-McCreight
"Interpreting the Bible as Bible," by Robert Louis Wilken
"Stumbling over the Testaments: On Reading Patristic Exegesis and the Old Testament in Light of the New," by Claire Mathews McGinnis
"Sinai, Zion, and Tabor: An Entry into the Christian Bible," by Bogdan G. Bucur
"Deuteronomy as the Ipsissima Vox of Moses," by Bill T. Arnold
"Relevance Theory and Theological Interpretation: Thoughts on Metarepresentation," by Gene L. Green
"'Interpret the Bible Like Any Other Book?' Requiem for an Axiom," by R.W.L. Moberly
"Humans in the Image of God and Other Things Genesis Does Not Make Clear," by Richard S. Briggs
"Review Article: The Practice of Theological Commentary," by Seth Heringer
"Review Article: Bard Called the Tune: Whither Theological Exegesis in the Post-Childs Era?," by Christopher B. Hays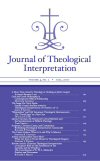 Journal of Theological Interpretation: Volume 4, Number 2 (Fall 2010)
Contents:
"A Short Note toward a Theology of Abiding in John's Gospel," by Andrew Brower Latz
"God and Greek Philosophy in Contemporary Biblical Scholarship," by Matthew Levering
"The Imago Dei Once Again: Stanley Grenz's Journey toward a Theological Interpretation of Genesis 1:26–27," by Jason S. Sexton
"'Minimalism' and Old Testament Theological Hermeneutics: The 'David Saga' as a Test Case," by Douglas S. Earl
"Quran Criticism, the Historical-Critical Method, and the Secularization of Biblical Theology," by Timo Eskola
"Scripture, Christian Canon, and Community: Rethinking Theological Interpretation Canonically," by Richard P. Thompson
"The Canon Debate: What It Is and Why It Matters," by Stephen B. Chapman
"Athens and Jerusalem Once More: What the Turn to Virtue Means for Theological Exegesis," by Stephen T. Pardue
"Review Article: Christian Theological Interpretation of Scripture Built on the Foundation of the Apostles and the Prophets: The Contribution of R.W.L. Moberly's Prophecy and Discernment," by Richard S. Briggs
About Joel B. Green
Joel B. Green is an associate dean for the Center for Advanced Technological Studies and professor of New Testament Interpretation at Fuller Theological Seminary. He has written or edited numerous books related to New Testament studies and theology.
Reviews
What other people are saying about Journal of Theological Interpretation, vol. 4.