Willmington's Book of Bible Lists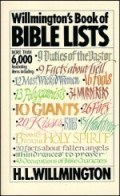 Overview
This is the most complete book of Bible lists ever published. The lists here can be used in preparing sermons and Sunday school lessons, in individual and group Bible study, and in personal devotions. A system of cross-references makes the lists even more useful by referring the reader to related topics in the book. Includes more than 350 lists of things in the Bible such as cities, parables, wars, occupations, kings, animals, martyrs, miracles, etc. with the biblical references for each entry.
Product Details
Title: Willmington's Book of Bible Lists
Author: H. L. Willmington
Publisher: Tyndale
Publication Date: 1987
Pages: 362
Reviews
What other people are saying about Willmington's Book of Bible Lists.